Menu
Event Booking Platform integrated directly into your 4CRM Account
The Event and Course booking Module allows 4CRM Customers to advertise and publish Events and Courses on their own fully branded Web page.
Your events and courses can be advertised as online Group Events / Courses or Individual Online Events / Courses or they can be In person Group Events / Courses or Individual In Person Events / Courses. 
You can add as many events as you want and you can take payment using 2 of the world's most popular Payment Gateways – 'Stripe' and 'PayPal' which are both Integrated directly into the platform
View More Details about all Events and Courses
To help you sell your Event you can Add Photos, Media & Videos to the description.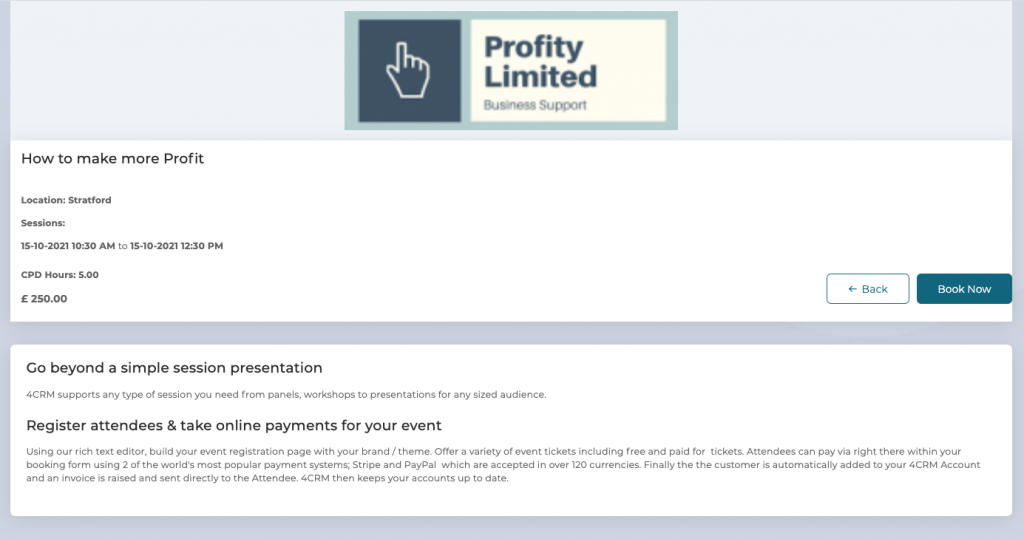 Attendees are added to your 4CRM Account automatically
Payment Gateways are integrated directly into your 4CRM Account
Payment is taken using your OWN Stripe or PayPal Account, NO commission is charged by 4CRM, it is completely FREE to use and you receive 100% of the Payment after Stripe / Paypal charges are deducted.